Get In Touch
[contact-form-7 id="868″ title="Contact form"]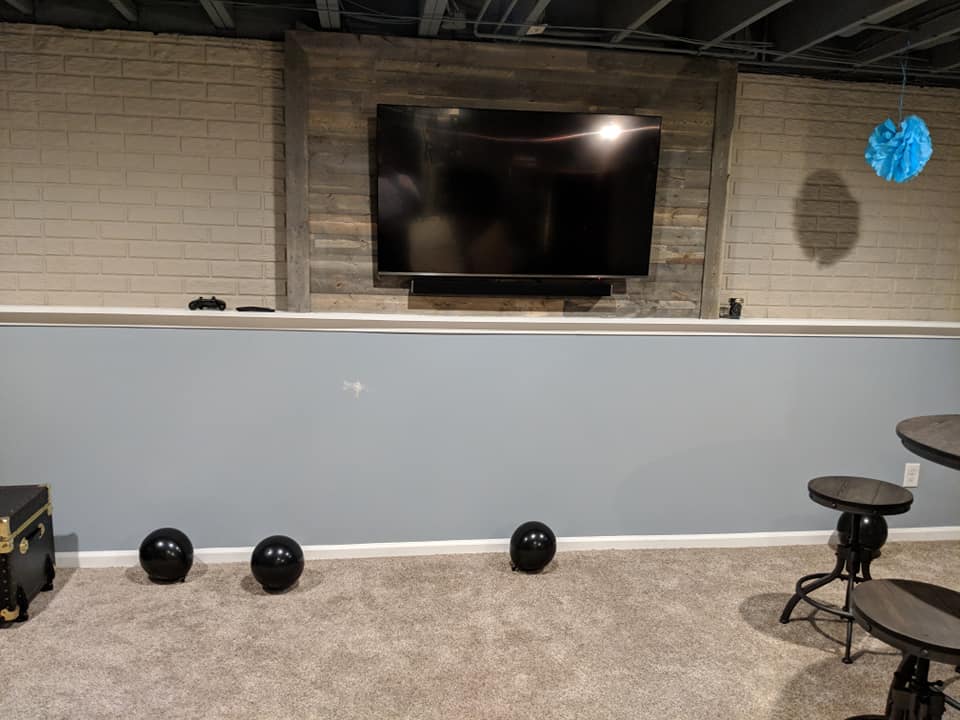 SERVICE OVERVIEW
Basement Remodeling Toledo, OH
If you recently moved into a new home with an unfinished basement, you are lucky. With quick and simple basement remodeling, you finally have an opportunity to turn a blank canvas into the perfect space for you and your family.
Whether you want a home theater, a playroom for the little ones, or a laundry room, the basement finishing experts from CRD Construction can perform the home renovation services you have in mind.
At CRD Construction, we pride ourselves on being the go-to company for basement remodeling projects in Toledo, Ohio. Whether you want to create a man cave, an additional bathroom, or transform your basement into a home gym, you can trust us to do an excellent job. Our team has the skills, knowledge, and equipment to turn your basement ideas into reality.
The Benefits of a Finished Basement
Homeowners have numerous reasons to finish basements in Toledo, Ohio. Here are some of the benefits you can expect from finished basements.
Additional Square Footage for a Low Cost
Do you want to increase your living space without spending a fortune on a renovation? Finishing the basement creates an extra living space for you and your family at a much lower cost.
At CRD Construction, we can discuss the project to review your ideas and plans, set priorities, and develop the time frame to get the project started. From installing new floor coverings to adding insulation and drywall, we will be here to guide you step by step until you get the room of your dreams.
A Room for Luxury Amenities
You might not have a space in the bedroom for a home theater or walk-in closet, but basement remodeling gives you the chance to enjoy those necessities at a fraction of the cost. Our basement remodeling experts will ensure your new finished basement serves as a room for your luxury amenities. From theater rooms to closet built-ins, rest assured that our team can do anything.
New Floors to Match Your Style
Our basement remodeling Toledo experts can provide you with more than just an additional room for your children or luxurious items. We can also update your flooring to match the interior design and upgrade your home's value. Homeowners from Central Ohio can trust us to add a luxury vinyl plank, carpet, or anything else you prefer.
Insulation and Drywall to Increase Your Home Value
Our remodeling services cover complete basement insulation to ensure greater indoor temperature stability, lower heating and cooling costs, and fewer indoor drafts. With basement waterproofing and insulation, you can increase the value of your property and sell it for a higher price when the time comes. In addition, when you partner with us, you can expect a total basement makeover with products that won't allow moisture or stimulate mold growth.
New Windows or Walkout Doors
Updating basement windows or adding a basement walkout door is quick and simple when you work with a professional company such as CRD Construction. Besides updating your flooring, you can also use this basement finishing project to add new windows and doors and increase the overall appeal and value of your house.
Basement Remodeling Inspiration
At CRD Construction, we want clients to feel confident when choosing us for their basement remodeling project. When we work on a basement finishing project, we aspire to guide our clients and provide support every step of the way. If you don't have any inspiration or are unsure what to do with your basement project, our Ohio team can provide you with creative ideas.
Playroom for Children
Are you tired of the children throwing their toys around the house? You can dedicate a space in the basement and turn the empty corner into a playroom to solve the problem. With basement finishing, you can provide the ultimate playroom for your little ones to enjoy.
Man Cave
The ultimate man's dream is to have a living area for himself to watch football games or poker nights with friends. Picture a wet bar, 4K TV, and built-in speakers for impeccable sound. You and your friends will never want to leave the basement.
Laundry or Storage Room
Turning an old or new basement into a usable space is the goal of every homeowner in Toledo, Ohio. If you don't need entertainment space, you can always convert basements into storage or laundry rooms.
Apartment Suite
If the space allows turning your Ohio basement into an apartment with a bedroom and bathroom, you can finish it into a suite to rent out. At CRD Construction, we will take care of every part of the process, including design, plumbing, and lighting. We are a certified total basement finishing installer and can commit to any project.
Premier Basement Finishing Company in Toledo, Ohio
Finishing your basement often brings more challenges than updating other areas of your house. Homeowners have to deal with flood-proofing, insulation of basement walls, moisture control, and lighting to make the room a functional and durable space. Careful planning and implementation are necessary to keep the basement remodeling project on time and within budget.
Therefore, it is essential to work with a qualified and reputable basement finishing company in Toledo, Ohio, to tackle the challenges that come with the project.
At CRD Construction, we help homeowners get everything they want for their new basement remodeling. Whether an extra family room, storage space, or wine cellar, we are the right project manager for your custom basement finishing.
Schedule a Consultation for Ohio Basement Finishing
Your dream of having a man cave, extra storage room, or home gym is closer than you think. A quick consultation with CRD Construction for your new spaces is all you need to get the remodel and basement project going. Our comprehensive services and basement remodel pros will transform your basement walls, doors, floors, and other aspects of the room to suit your needs and lifestyle.
Let our basement finishing experts turn your basement from concrete into a functional and beautiful room. For total basement remodeling, contact CRD Construction at 419-954-3003 to schedule a consultation.
Take a look at our online Basement remodeling gallery to see some of the homes we've worked on in the past, and to get some ideas of ways you can improve your Basement. Send us a message online to schedule an appointment for a consultation about remodeling options for your home.